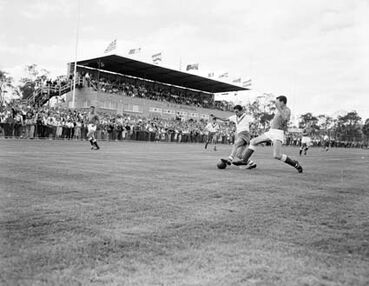 Ringwood Wilhelmina 2 (Jan Bons, Leo Beerendonk) def. South Melbourne Hellas 1 (George Papadopoulos)
Saturday 31 March
Venue: Jubilee Park, Ringwood
Attendance: 3,500
Referee: 
Lineups (incomplete)
Ringwood Wilhelmina: Rudi Van Altena, Melville Luyt, Cor Mathyssen, Dick Van Alphen, Leo Beerendonk, Mike De Bruyckere, Henni Van der Linde & Jan Bons Coach: ???
South Melbourne Hellas: George Penzo, Mike Mandalis, Jim Mantarakis, Basil Kourkoulakos, Jordan Ieremiadis, George Papadopoulos, Manny Tsolakis, John Margaritis, Savvas Salapasidis & John Bedford. Coach: ???
Milestones
This was the first official match at Jubilee Park, Ringwood Wilhelimina's home ground.[2]
Summary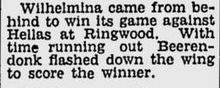 The opening round of the 1962 Victorian State League season saw Ringwood Wilhelmina host South Melbourne Hellas in a match which doubled as the official opening of Jubilee Park, Wilhelmina's new ground. Hellas took the lead, but the home side came from behind to win the game.
Match reports 
The Age - Barbazza scores three in Juventus win[3]
References
↑

The article includes a summary of the other state league games, including one line about the Wilhelmina-Hellas match.